Pro Soccer Lab
We offer programs that help children to grow athletically,
summer camps and individual activities for young football players.
FIND OUT MORE
TO ACCESS OUR FORMS
Click on SELF-CERTIFICATION (if you are registered)
or on the facility ACCESS FORM (if you are not registered)
SELF-CERTIFICATION
ACCESS FORM
NEWS
Always be updated on all Pro Soccer Lab events and news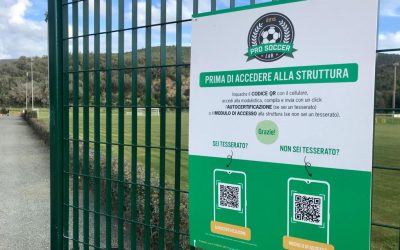 Continuano i lavori di adeguamento al centro sportivo Casamorino di Castiglione della Pescaia, dove è stato messo a dimora definitivamente il nuovo cancello principale e dove, nelle prossime settimane, partirà anche la sostituzione delle recinzioni laterali che...
read more






BOOK TIME ON OUR FOOTBALL FIELD
The CasaMorino playing field is located
within a beautiful green area on the outskirts of Castiglione della Pescaia.
Book the football field for a match with your friends.
Sports bibs and balls will be at the athletes' disposal, as well as a locker room for their exclusive use only. 
Casamorino is an excellent location for birthday parties and other special celebrations too, with its green surroundings, lots of material at your disposal, space to play freely and set up entertainment activities. If you wish, we can provide football coaches. At CasaMorino you can host birthday parties and other celebrations, in a well-equipped park where children can play freely surrounded by a beautiful green area.
Do you want to join the team?

Our location
"CasaMorino" Sports Center
Casa Mora Locality, Castiglione della Pescaia (Gr) 58043